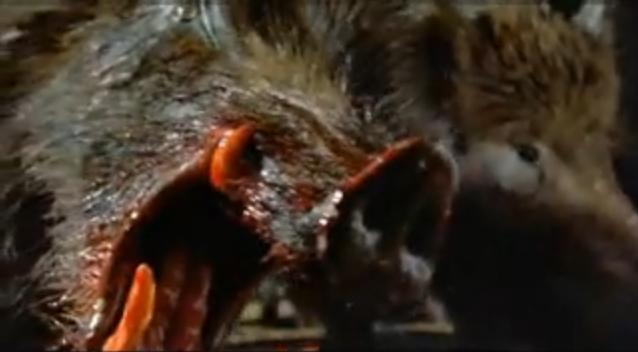 As George Washington Vanderbilt II celebrated his first Christmas at Biltmore House in 1895, it was with the knowledge that he had effectively just given himself the perfect gift for that special someone who has everything. Yes, inside his brand new chateau, there were 250 ornate rooms chock-full of every expensive bauble his heart could have desired. Outside, there were sprawling grounds that had been meticulously landscaped by renowned Central Park creator, Frederick Law Olmsted. And yet, despite boasting such amenities as a swimming pool and a bowling alley, Vanderbilt amazingly forgot to install that one additional thing that every modern country gentleman of means simply shouldn't have lived without: the wild boar death pit. Well, thankfully filmmaker Ridley Scott set things right by casting the Biltmore Estate as the residence of Hannibal's wealthy pig-loving freakshow, Mason Verger. Indeed, Verger has an excellent view of the tied-up cannibal Hannibal Lecter surrounded by a bevy of large hungry pigs who oh-so-happily devour their hapless owners… before adding a flailing Verger to their buffet.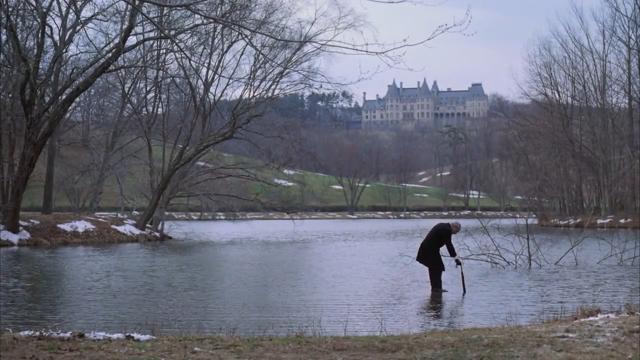 Being There provides a gentler take on death. The dimwitted Chance likens it to the changing seasons in a garden, and it's this well-tended Biltmore Estate feature which draws thousands of yearly visitors. And yet, the film's solemn finale takes place in the deathly chill of winter, as the late kingmaker Ben is laid to rest in his Masonic mausoleum, while Chance wanders the grounds. He tends a young sapling, turns, and then strolls out onto the lagoon spread beneath a western view of Biltmore House. He stops briefly, and casually dips his umbrella into the dark waters to test this unexpected Jesus-like miracle. Satisfied, he continues on and walks away over the water toward eternity. For we viewers, it's a reminder that for a penniless man like Chance, who spent his early existence confined indoors and watching the outside world on television, life really is a state of mind. Of course, it's reasonable to assume that if any one of us were raised under such claustrophobic circumstances, we might have a psychotic break or two. But not so in the wonderful world of cinema.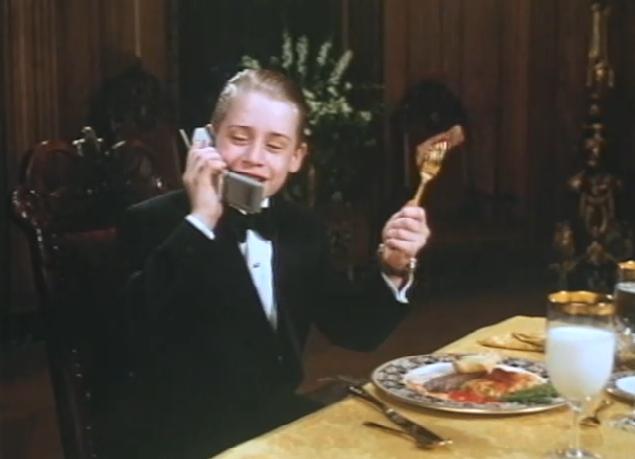 That said, it couldn't have hurt to spend your long and utterly-lonely childhood confinement in the Biltmore Estate's 8,000 acres of North Carolina forests. In fact, Richie Rich plays out like an extreme version of what life for George Vanderbilt's only child, Cornelia might have been like — that is, if her father had been both psychotically overprotective and overindulgent. The film follows young wealthy recluse, Richie as he tries-and-fails to make friends with kids of his own class. This, after being sequestered from less-rich kids who play baseball on dirty sandlots. Ignoring such class considerations is the theme of one of the earliest films to be granted permission to shoot on the Biltmore Estate — 1956′s The Swan. This highest-of-society romances is set in the small-but-wealthy world of the European noble elite, and concerns Princess Alexandra (a pre-royalty Grace Kelly) being forced to choose between the Crown Prince Albert (whom her family expects her to marry), and her brother's dashing (but none-royal) tutor, Doctor Agi.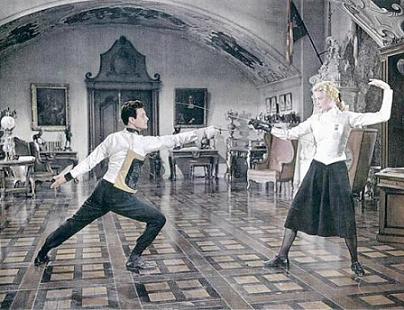 While she is ignored by the prior, Agi expresses his love, and even teaches her to fence, but all for naught. The film was released a week after Kelly's marriage to Prince Ranier — making Alexandra's failure to overcome class differences with Doctor Agi resonate even deeper with the common audiences who would only see one more High Society movie role from this princess, before she turned her royal back on acting. Larry Burrows, on the other hand, is an "everyman" who gets a second shot at living the high life he craves. And thanks to a run-in with guardian angel, Mr. Destiny, he gets to call Biltmore House his home. And yet, like other cinematic Biltmore residents, Burrows grows weary of his lofty societal position, and comes to resent the oppressive class constraints that keep him from his middle-class wet dream-version of suburbia. Today you can sample Biltmore House without all the baggage of living there, as Cornelia Vanderbilt and her husband opened it to the public in 1930. Still the largest private residence in the country, its royal film career is far from over.