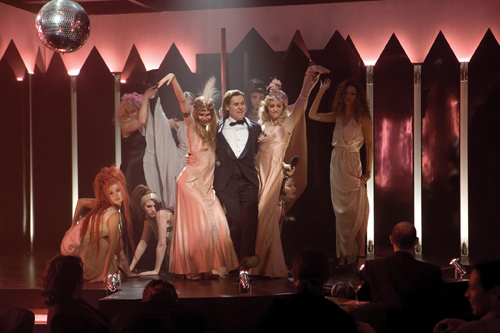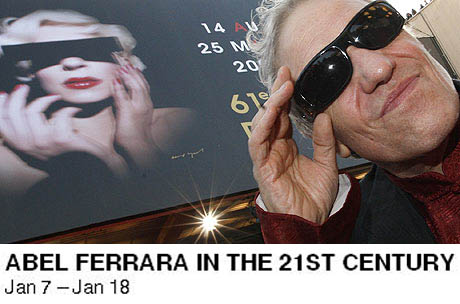 Who: Abel Ferrara is a New York City-based filmmaker who has written and directed several features set/shot in Manhattan. Camera In The Sun spoke with Ferrara for a January 2011 interview, on the eve of Anthology Film Archives screening five of his 21st century films over 12 days. A decade before, the filmmaker had moved to Rome, Italy, and directed three features — including one shot inside Cinecittà studios and another in the city of Naples. He then returned to make two documentaries about iconic NYC locales. At the time of this interview, he was planning a NYC-shot film with Ethan Hawke and frequent collaborator Shanyn Leigh titled The Last Day on Earth.
Why did you decide to make films in Italy?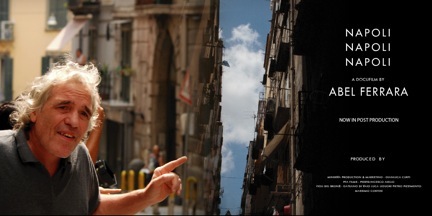 Unlike in Europe, where filmmakers, a lot of their money is from the government — in America, it's capitalism at it's finest. In the '90s, everything was like an independent film situation, and the banks were financing these movies that were made with maybe 3, 4, 5 million dollars — with which we make our films. We control product from beginning to end, which is the key for a filmmaker like me. And at a certain point, that ended, and all these independent companies went out of it. New Line, Miramax, October — there was a bunch of them. They all kind of threw in the towel and became part of the Hollywood studio system and make studio films that way. That's not the way we make films, and at a certain point we had an opportunity. A lot of our films are financed there in England with foreign money. With Mary, the film was set in Jerusalem and in Rome. And Go Go Tales, we were building a location at Cinecittà, even when we were shooting on location in New York. Italy, before 2007, was kind of a good place for us for financing and making films.
Was shooting Go Go Tales on a Cinecittà studio set a new approach for you?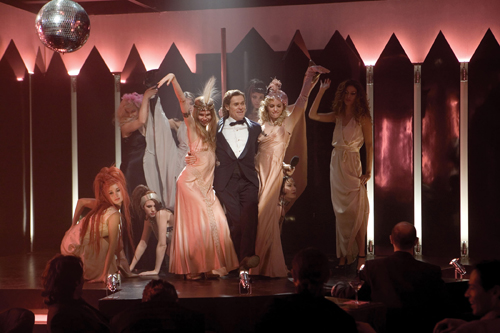 We worked on a studio before, but to totally build a set, it was great. Because it was all conceived, in real time, to be shot inside a go go court. So, to create that space from scratch was the best. Those are the best carpenters at Cinecittà, and the Italian art — you know, it was my design that [Production Designer] Frankie [DeCurtis] built basically with their guys. You've got the whole tradition and history of Italian filmmaking. We're shooting the same place where Fellini and these guys shot.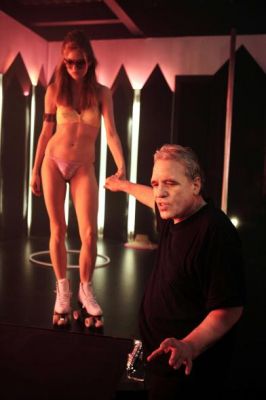 These are the best filmmakers in the world. Their pace was our pace. And you do it til you get it right, you know. And we shoot fast anyway. We like shooting fast. It's a misconception that these guys are slow. It's not true. We shot Go Go Tales in 20-something days. We shot Mary in 20 days, and shooting in three countries.
Did shooting on a controlled set give things a different feel than, say, the strip club in Fear City?
Fear City was written to be shot in the go go clubs in New York in 1975. And we ended up shooting it in Hollywood [20th Century-Fox] five years later. It was basically the same thing — Fear City was more of a studio film. A lot of money — or enough money — and we were designing and building sets, as opposed to shooting Bad Lieutenant-style. The last shot of Bad Lieutenant, that's all hidden camera. Different takes, people did different things.
For Napoli Napoli Napoli, why did you use both real prison interviews and fictional narratives?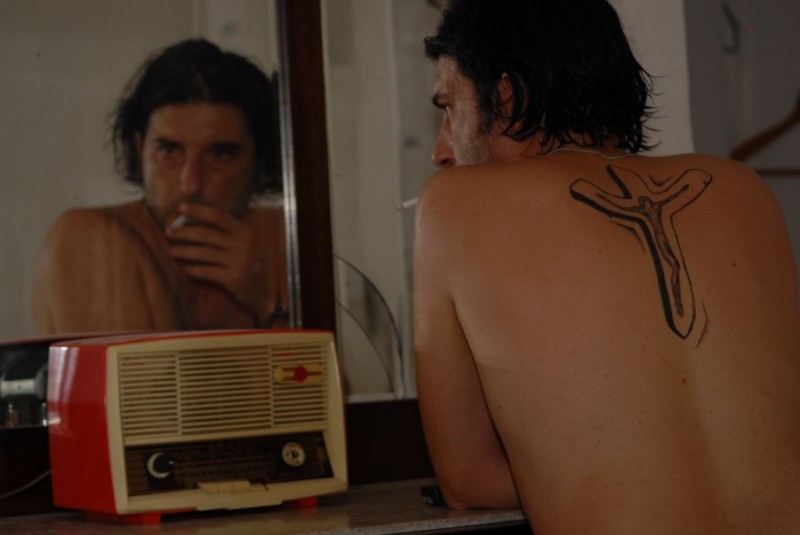 You know, it's funny, when you put a camera in front of someone, then all of a sudden you question how real things are. Once the camera enters the equation, everybody's an actor. You know, just because you're talking to someone in a documentary situation doesn't mean the information you're getting is true. And the same thing, just because you're making stuff up doesn't mean it's fiction. It was something that just seemed like the right way to put together to tell a story — to use all the elements.
What did the Neapolitan writers of the three narrative sections bring to Napoli Napoli Napoli?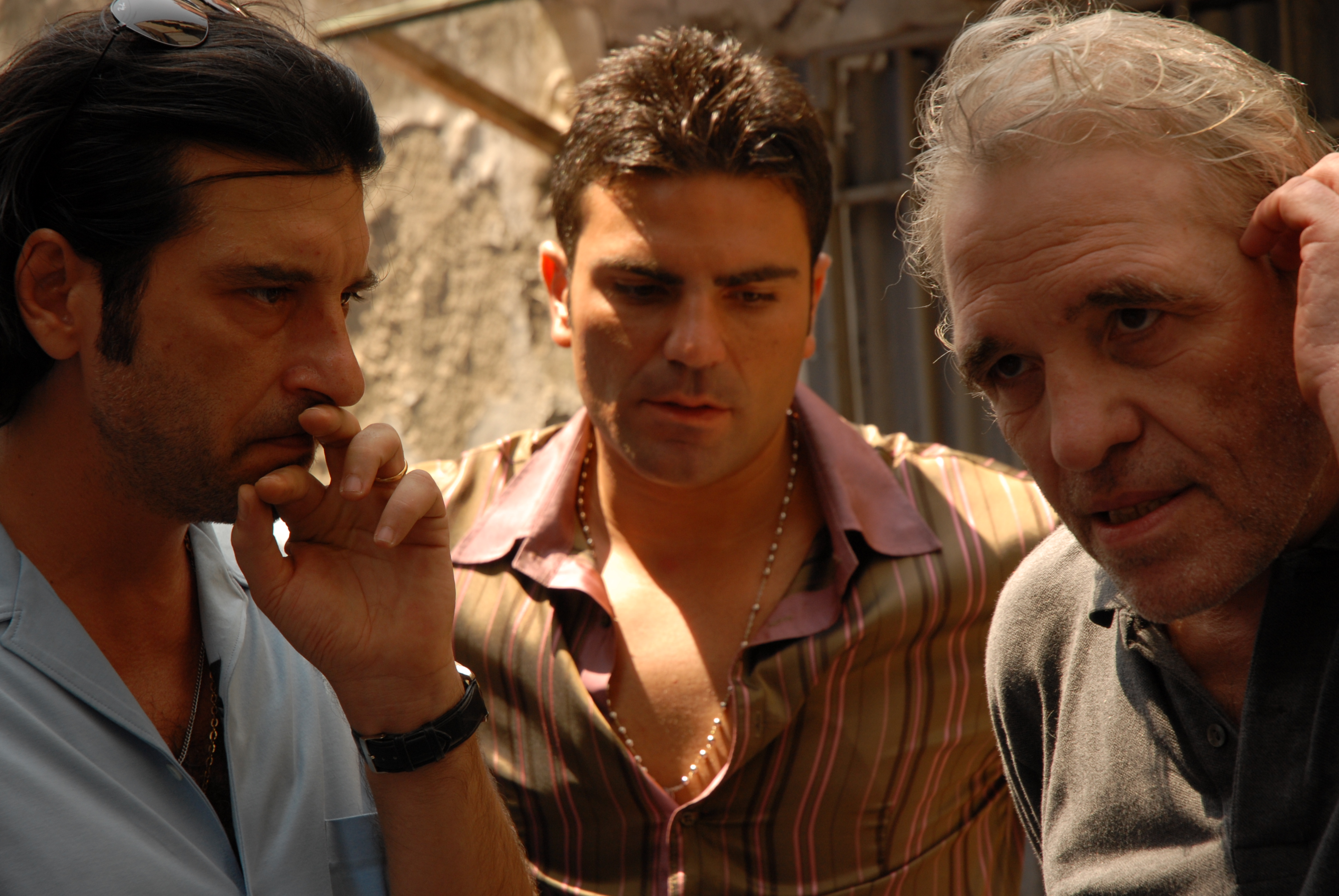 The writers were the intellectual guys who've been in jail — guys who you would never even think of being in jail. At this point in life, they're writing, but they're from there. They're from the city. The three guys who wrote those scripts, the guys who helped me put together those interviews, and put the film together — these are all guys that grew up in those neighborhoods. You know, me and my guys were the only outsiders.
[Naples] reminds me of New York. It's the same thing. It's not so much the violence, non-violence. There's the haves and have-nots, and there's power and authority and there's oppression. A lot of times these political decisions with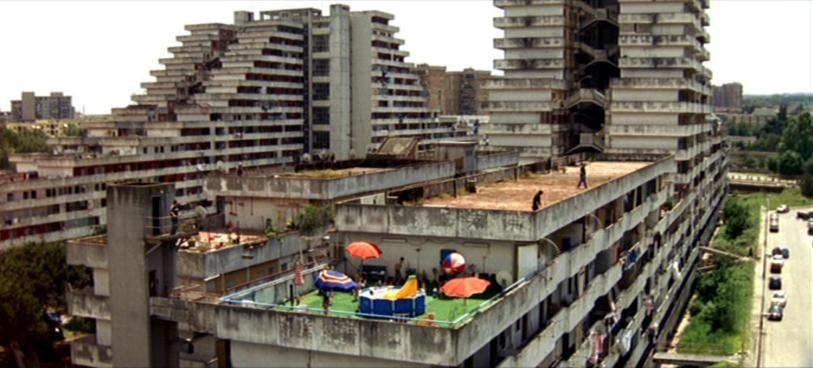 low-rent housing and projects and things like that — they're not so much helping people out, but keeping people in. And it's a lot to do with how the environment defines the person. Just like the housing projects in the United States, these people are basically born inside a prison and getting out. Those places — the theory behind them by people who never lived in them — was that they were like a stepping stone to an upwardly-mobile society, when in fact it's just the opposite.
Naples housing projects are a major setting in Gomorrah — what did you think of that film?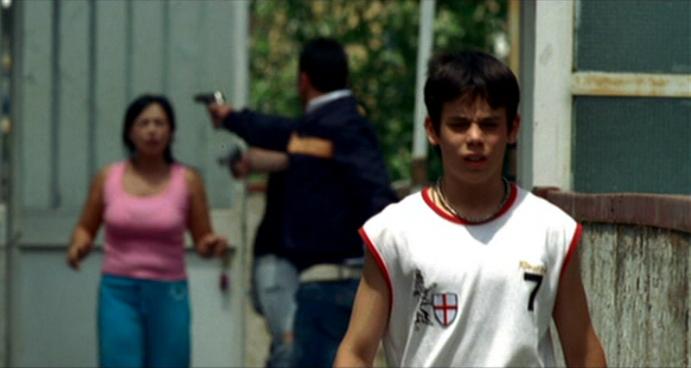 I think it was a cool film. You know, it was based on a book that the chap [Roberto Saviano] wrote under duress. A lot of things that were there — written about in that book — people didn't want known. You know, it was a pretty courageous statement by him. And then they shot it, and they took it to the film side of it. It was cool, and the film got distribution, and it showed that you could show a film in the United States with Italian (subtitles). You know, cinema got to the point where European films don't show. And I grew up watching films with subtitles, so I don't know when all of sudden it got to the point where people aren't expected to read — or taking for granted that people can't read — you know, I don't buy it.
Did the Napoli Napoli Napoli experience effect your documentary approach to Mulberry Street?
I grew up a Neapolitan, so even though I'm Italian American, a lot of that culture is mine. Being surrounded by it for a big part of my life, then you go back to the source and it's constantly changing.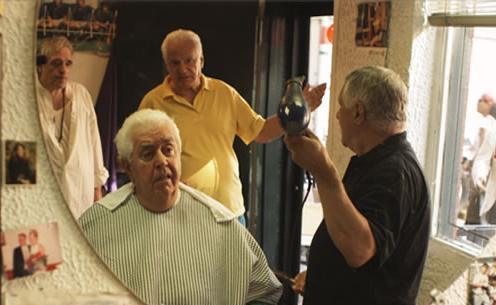 The Naples of today is not my grandfather's city, and it's not the city of 10 years ago and not the city of when we made that film. It's what's great about shooting documentaries. When you shoot in New York, the landscape is constantly changing before your eyes.
[For Mulberry Street] I just wanted to get those guys, and I'm glad I did, because a few of those people are no longer alive that I was filming. It's a street I was living on. It's a street that I knew. It's something I wanted to capture. And it's a place now that's different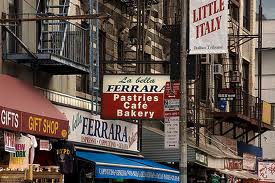 than when I shot that film, but still it's a traditional Italian neighborhood that's becoming a commercial restaurant district crossed with the yuppie very-wealthy downtown New York vibe. You know, super-high rents, super-successful people. All these apartments and cold water flats from the turn-of-the-century — they're right now high-priced pads, and every square inch is battled over. And it's basically a block within a Chinese neighborhood.
How do Little Italy street fairs, like the Feast of San Gennaro, differ from classic film versions?
People want to live in a movie life, and the world is the real world. But what's funny here — because it's such a tourist thing — it may be that the neighborhood is more maintained or played out to match the film. It's life imitating art. What's sold here is the memory of a reality.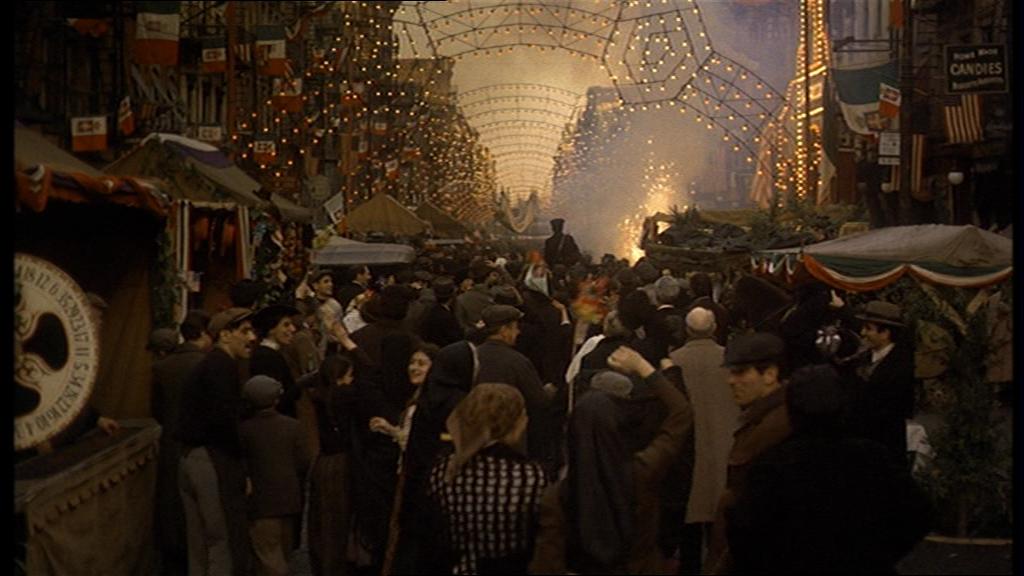 You know, those films — it's like the museum of Mean Streets and The Godfather — that's not it anymore. They're selling it, and I think they're misquoting what Mulberry Street's about too.
The San Gennaro feast obviously always began as a religious deal, but the religious deals always had a financial motivation from day one. Even before, there was pinwheels and shoot yourself a teddy bear or throw three balls through a hoop and all this other nonsense. But at one time it was run by the street, and it was a 24-hour drinking, partying, gambling nightmare if you lived here, but it was a big money-making deal. And then post-Giuliani, no more firecrackers,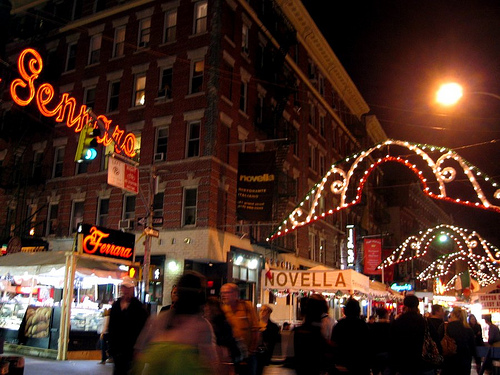 the city runs it, so it becomes it's own new thing. I mean, I live on the street, so thank God. I don't want to see a bunch of drunks. I'm sad enough without everyone getting loaded, and music playing til 4 o'clock in the morning. It's bad enough you hear this bullshit til 11 o'clock at night. But people in the neighborhood still make money. It's a money-making proposition. It's also the time of year that people come down, and get a look and publicize the block for the rest of the year.
Why include reenactments of the Sid Vicious-Nancy Spungen incident in Chelsea on the Rocks?
People in that building — or "people in the know" — were telling me that Sid didn't kill Nancy, but that everyone knew that. I said, "Well, I don't know that." I don't think everybody knows that. I think everybody knows what they saw in Sid and Nancy. So, it's just presenting an alternate idea of what might have happened that night from people who were actually there. There's a lot more than meets the eye. But the fact is, for some reason that event kind of overrides a lot of the things that have happened there. That that can't be denied — that night.
And what about the role of drug-use among the Chelsea Hotel's famous residents?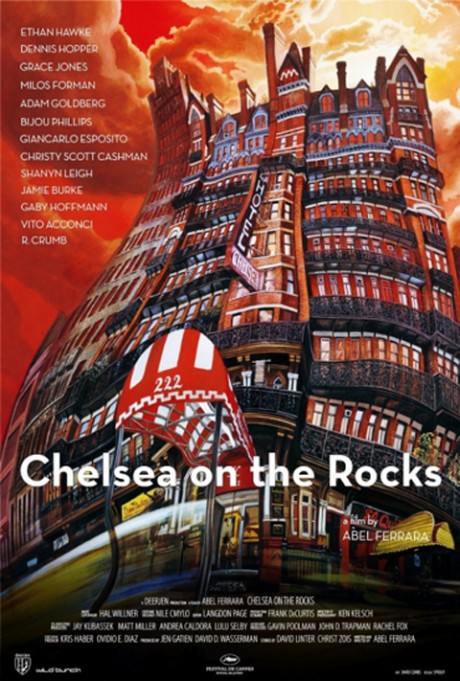 I think it's the history of any hotel in those neighborhoods. You know, I mean, in the '70s, '80s, and '90s, whether it was the Chateau Marmont — or wherever it is — where you're gonna have people worth a lot of money, it goes hand-in-hand with stardom. I don't think it's any more or less than in any hotel down the block. I don't know, it's the rock and roll aspect of it, I guess.
I grew up outside the city, so we used to come to Greenwich Village to get ripped off in pot deals. We never went to the Chelsea Hotel. I remember the first time I was there, but then, you know, it's funny — some people, from Janis Joplin on down, these guys, they would just come and sit in the lobby. I mean, I don't know what they expected to get out of it.
What's changed most about Manhattan since you started shooting films there?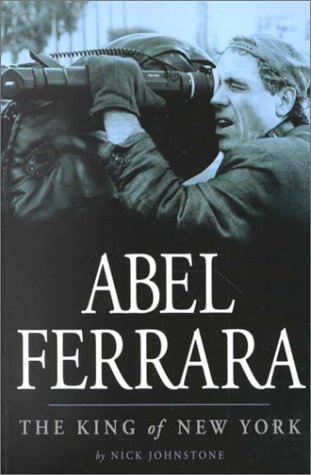 The difference is that every square inch is taken. Every square inch is fought over. Every square inch, everyone is sucking the life out of anybody who's renting and taking whatever. New York, it's been kind of the mecca of the world, but now it's super-duper mecca. And that's where it's at. I mean, I came to seek my fortune in Manhattan. You can only come to Manhattan if you have a fortune, or you've got some kind of hustle where you've got a rent-controlled apartment or you're living with your mother. You're not gonna come to Manhattan and start from scratch. It ain't happening. It was more possible in 1975. I think it was all gone by the early '90s. But it's definitely long-gone now. I mean if you're living in Manhattan, you'd better have a job, 'cause you're definitely paying rent.